I am pretty fortunate to be able to dabble in synchronous, asynchronous and blended learning environments. I really appreciate a shared virtual space and have found that many of my "tried and true" activities can effectively be applied to the online classroom. There is an amazing book out there by an amazing teacher that I highly recommend every teacher has on their desk: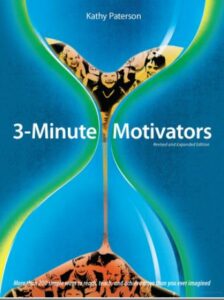 These activities are golden for all parents too, seriously, this book has saved my sanity on many a long car ride.  You won't regret buying it.  I promise you!  
Some of my favourite activities to get students interacting and participating: 
Fact or Fiction.  Send students on an internet search to discover if something is true or not in one minute.  When some of the items unverifiable, it keeps it interesting and prompts a little debate.  Students can post a link in the comments to evidence.  For example: Creating a phony entry in your address book will stop viruses from mailing themselves out from your computer. (False)
A personal favourite is a simple "talk-a-lot" activity where you simply tell the class anything you can think of for a full 60 seconds… all talking at once, including me! Depending on the class, sometimes, I give a theme like "what would the perfect pet be and why, convince me." It creates a noisy, lively, minute of Meet time.  It's very rare that students don't participate and a safe way to speak online without the nerves being the centre of attention often brings.  
For my older social-emotional learning programs, there a few things I make a habit of doing.  When we meet asynchronously, I am always careful to greet everyone by name as they join.  My first activity is usually a quote that represents the theme or mood of the space we're creating. I share the meaning it holds to me in a very authentic way and I leave the invitation for others to as well. I find this is a helpful way to establish a sense of warmth and as I am usually in my office, the background is also very intentionally set to establish a specific mood (nature art, plants, etc.).  I even have a plug-in water feature but I usually don't open with it 🙂 
I find the activities I do really vary depending on the subject and nature of the course I am teaching. 
I had never really checked out Jamboard before my wonderful group member and fellow learner here, Tammy, shared its praises. I have now been doing some exploring.  I recommend you check out this teacher who makes some amazing templates for Jamboard. 
https://twitter.com/GiftedTawk?ref_src=twsrc%5Egoogle%7Ctwcamp%5Eserp%7Ctwgr%5Eauthor Her Twitter account actually shows animated versions of the different things. 
This site here https://linktr.ee/GiftedTawk has the same templates for you to take and make a copy! 
Happy week 9 and looking forward to week 10 of the course!